We are a Cytech accredited workshop and a member of the Association of Cycle Traders, so you can be sure we will look after your bike as if it was our own. 
We are qualified and equipped to perform all types of work from a simple pedal swap, to a complete strip down and rebuild.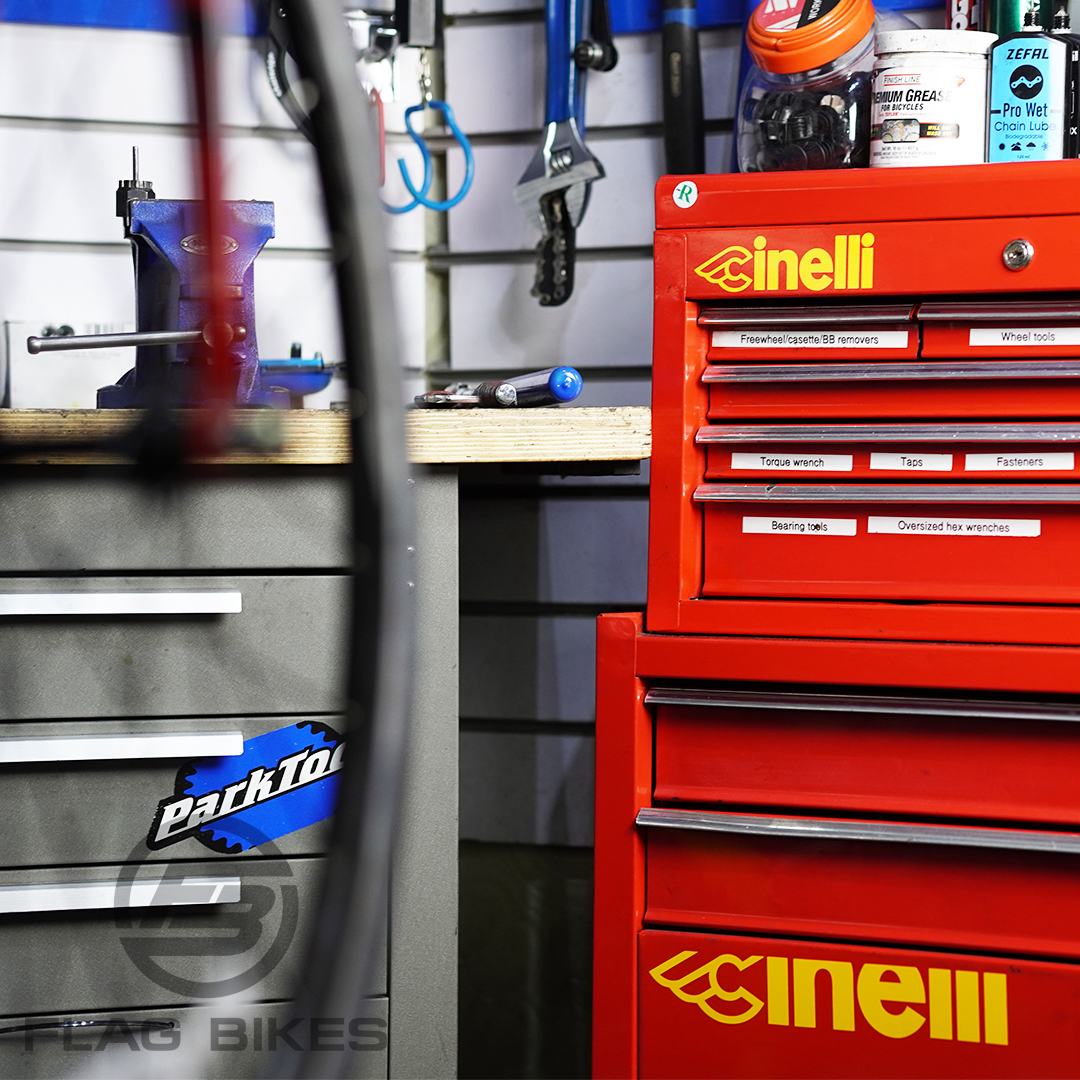 STANDARD Service – 80
Recommended every 6 months. Gears and brakes adjusted for maximum performance. Spoke tension on both wheels to prolong their life and increase braking effectiveness. We will also remove your wheels and give them and the rest of your bike a good clean in our in-store Bike Spa. Drive System, Brake Pads, Tires, Rims, Bottom Bracket Checked for Wear Brakes adjusted, Gears adjusted (Hanger Alignment Checked, Limit bolts adjusted Headset adjusted, All Bolts torqued Bike Tested or Road Under Load, All Gears and Brakes Tested on Road
PRO SERVICE – 150 
Recommended every 12 months. 
Okay, we are the first to admit that for most bikes/owners, our flagship service is overkill! In addition to everything in the STANDARD Service, we strip your bike down to the bare frame before painstakingly rebuilding and re-greasing all components and finishing with a wax polish. 
Bottom Bracket Removed, Inspected and Replaced/Re-fitted 
Headset Inspected and Replaced/Re-fitted 
Hub Bearings Inspected for Wear, Replacements installed if necessary 
PUNCTURES 
Tyre, Rim, Rim Tape Inspected for Wear and Damage, New tyre will be recommended for an extra cost if needed, Price includes new rim tape (if required) and a quality Schwalbe or Continental inner tube • 25 
As above but on rear wheel with hub gearing and/or fully enclosed chain • 35 
OTHER WORKSHOP 
Our labour rate is £60/hour with a minimum service charge of £5. 
WHEELS • TYRES • TUBES • BRAKES 
Wheel true & spoke replacement • from 25 
Wheel true w/o spoke replacement • from 15 
Hub service • from 25 
GEARS • DRIVETRAIN 
Gear Service • from 30 
Fit cassette/freewheel • from 15 
Fit bottom bracket • from 30 
Fit chainset • from 40 
Fit chain • from 15 
Brake Service (front & rear) • from 30 
Hydraulic brake bleed (per end inc. fluid) • from 30 
INSURANCE QUOTE 
Written insurance quote • 60 (Frame, fork, wheels, components checked and inspected for damage, quote for New Parts and Labour is prepared) 
STEERING 
Fit new bar tape • from 15 
Fit new handlebar grips • from 10 
Fit new headset/fork • from 30 
Fit new stem • from 10 
MISCELLANEOUS 
Minimum service charge • 5 
Fit full-length mudguards starting from • from 20 
Fit other accessories • from 5 
Build a new bike from box • from 50 (FREE if bought through us) 
Custom bike spec & build • from 150 
IMPORTANT INFORMATION 
1) If there is any service you require that is not included on this list please contact us for a no-obligation quote. 
2) All components and accessories to be replaced during the course of a service will be disposed of unless specifically requested at the time of booking. 
3) Our space is limited. Please arrange to collect your bike promptly after your service is complete. Flag Bikes reserves the right to charge a storage fee of £5 per day for bikes left in the workshop. (charges apply after 7 days from the date of collection notification.) 
4) If a bike remains uncollected for longer than 2 months, it will be given to charity or disposed of.